News and Announcements
Lent Course 2023: The Lord's Prayer
A prayer that we say so often and that we are so familiar with, but how often do we really think about the words that we say. Why not join us to talk about what we mean when we are saying 'Our Father…'. Do please let us know if you would like to attend our Lent Course so that we can have enough handouts.
Everyone is welcome and don't worry if you can't attend every week!
Mamble Christmas 2022 coffee morning & raffles
Saturday 26th November, 10am - 12.30 pm in Mamble Village Hall. Homemade cakes and tea and coffee. Christmas hamper and other raffles. Click here for more info
Carol Singing
This year Carol singing in Mamble and Bayton Parish will be held in December as follows:
Tue 13th at Clows Top
Mon 19th at Bayton
Tue 20th at Mamble
Wed 21st at Bayton Common
Moneys raised will be shared between the Trussell Trust and Mindsong. Meet up at 6pm.
Prize Bingo
Friday 11th November at Far Forest Village Hall, Eyes down at 8pm. There will also be a raffle and refreshments will be available.
Proceeds in aid of Holy Trinity Church, Far Forest.
Open Garden
Sunday 12th June 11am-4pm at Coppice Gate Farm, Lye Head, Bewdley, DY12 2UY. WhatThreeWords location: ///coughed.stated.adapt
There will be Tea, coffee and cake available as well as a raffle, plant and other stalls. There is a £5 entry fee, proceeds from this event are going to the Friends of Rock Church.
Lent 2022
Lent Course
We will be running a Lent Course beginning the week after Ash Wednesday. There will be a day-time and an evening version, and it will be possible to attend either in person or on-line via Zoom. If you are interested in attending then please contact Sallie so that she knows how many people might be at each group.
Lent in a bag
We are producing a 'Lent in a Bag' resources, both for adults and a children's version. If you would like one, they will be available at the Ash Wednesday service or please contact Sallie and we can leave one for you at one of our churches or deliver it to you. You can also download the resources that are in the bag from the Resources and Links page of the website
Jumble Sale Sat 5th March at 2:30pm
Proceeds will be divided between the Bayton Church Heating fund and the Recreation Ground Children's Play Area.
Jumble may be left under the village hall porch on Thursday 3rd, Friday 4th and Saturday 5th up to midday.
Children's Activity Day - Tuesday 21st Dec

We will be holding a Children's Christmas Activity Day at Bayton Church on 21st December from 10.00 a.m. until 3.00 p.m. There will be music, crafts, cookery, and lots more to do throughout the day, and lots of things to take home. We will supply drinks and biscuits but the children will need to bring their own lunch.
If you would like your child to attend, or know of a child that would like to come, for either all or part of the day, then please can you book a place by contacting Rev Sallie so that we know how many children to plan for. This is primarily for primary age children but if you want to bring a younger child then an adult will need to stay with them.
Carol Singing

Carol singing is back – although we are going to take some sensible measures to keep everyone as safe as possible.
There will be three main carol singing occasions: -
1) Wednesday, 15th December - Clows Top Carol Singing:
6.30 p.m. - Mission Room,
6.45 p.m. - Summit Road,
7.00 p.m. - Victory Hall.
2) Friday, 17th December - Bayton Carol Singing:
6.00 p.m. - School,
6.10 p.m. - Leasowes,
6.25 p.m. - Village Green,
6.35 p.m. - The Square,
6.50 p.m. - Church,
7.00 p.m. - Village Hall, where there is a pub night.
3) Monday, 20th December - Mamble Carol Singing:
6.00 p.m. - Church,
6.15 p.m. - Village Green,
6.30 p.m. - The Beeches,
6.45 p.m. - Moorfields,
7.00 p.m. - Village Hall, where there will be carol singing, drinks and mince pies.
Bishop Martin pilgrimage: visit to our parishes on Sunday

Bishop Martin, the bishop of Dudley is currently on a pilgrimage of prayer around the diocese. He will be visiting on Sunday 17th October and will be in Mamble at 11.20 am, then walking to Bayton for 12.10 pm, then he will be at Far Forest at 2.00 pm. He will spend around 10 minutes in a church, saying a simple prayer of blessing over the font and in some churches morning, midday or evening prayer. There will also be a slightly longer prayer service for the deanery on Sunday at 6.00 pm at St Mary's, Kidderminster.
New Services starting in October

As the country has begun to open up after the lock downs for Covid, we are going add some more services into the monthly schedule. You will see in the rota:
Morning Prayer at Rock on the second Sunday of the month
Tea and Praise at Mamble also on the second Sunday
Family Service at Far Forest on the fourth Sunday
New Curate to be Licensed, Wed 1st September

At 10am on Wed 1st Sept at Rock church Rev Julia Quinn will be licensed by the Bishop of Dudley to work with Rev Sallie throughout Wyre Forest West. Here is a copy of the introduction that she has written.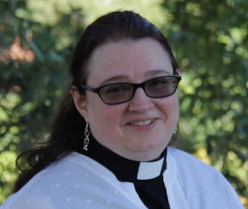 Hello, I'm Rev Julia Quinn, and I'm looking forward to continuing my curacy with all of you in Wyre Forest West. It's always slightly scary staring at a blank page considering how best to introduce myself. I wonder what you would like to know about me?
I can tell you that I'm originally from Lymm in Cheshire but moved to Areley Kings in 2005 when my husband Andrew began work at the University of Birmingham. Our household consist of Andrew, me and our two cats, Dotty and Essie. Formerly a Reader at St. Bartholomew's, Areley Kings, I trained at the Queen's Foundation in Birmingham and was ordained Deacon in 2018 and priested in 2019. You may have already heard that I am a part-time, non-stipendiary minister and in my time with you, I hope to learn a great deal and continue to grow in my role as priest. My background is in science and I have taught biology, worked as a research assistant at Cranfield and Birmingham Universities and have been an IT trainer. For me, science brings wonder and I thank God for what it reveals; I like to walk and rejoice in the natural world. Singing and craft, especially beading, help me relax.

That's the basics of the CV.
Let me start again. I'm Julia. When I was 6 years old two important things happened. I sang a solo for the first time in church – it was a school nativity play; yes, I was an angel and it was the first verse of "Away in a manger". At that point, my love of singing became inextricably linked with worshipping God and I still find praising God through music deeply profound. I was also invited to the children's holiday club in the tiny chapel across the road by Frances (who lived next door). I was already familiar with Bible stories and saying prayers every night, but there I heard an idea that has stuck with me for the rest of my life.
"Listen for God's voice, deep inside you."
My life had been a journey of listening for that voice, speaking to me through scripture, through the Spirit and most of all through the people I have met along the way. Sometimes I have listened well, but not always! Many times, I have needed the encouragement of others to walk the path. Through twists and turns God has led me to do much more than I ever thought I could, up to and including the call to serve as a priest. I feel excited and greatly privileged to serve and learn amongst you.
As a result of my own experience, I am passionate about telling the story of God's love not just through words and sacrament, but through music, art, craft, play and technology and in ways that resonate with all ages, especially children.
That's a little of my story; I look forward to learning your stories and sharing in and encouraging your journeys.
We are all looking forward to welcoming Julia at our churches over the coming weeks.